Uproar Updates
A summary of our accomplishments from the last half of 2022.
Dodo Wang, Uproar
16 February 2023
Since the launch of the new website in 2022, Uproar has had a considerable number of achievements. From the review of Tunisia and Morocco to workshops in Malawi and Zambia, we're excited to update you all on what we've been up to.
UPR41: Tunisia and Morocco
We had great success working on the countries of Tunisia and Morocco for the 41st Universal Periodic Review. Both Tunisia and Morocco's reviews took place on Tuesday 8 November at the UN Headquarters in Geneva.
Tunisia received 15 recommendations on the issue of freedom of expression from the following countries: Austria, Czechia, Estonia, Costa Rica, Netherlands, Norway, Slovakia, Finland, Israel, Italy, Luxembourg, Spain, Sudan, Switzerland and USA.
We were pleased to see that the Netherlands made a standout recommendation specifically highlighting digital rights:
"The Netherlands recommends that Tunisia protect the right to peaceful assembly and freedom of expression by safeguarding Law 88 and reviewing Law Decree 54 on Cybercrime."
In response to these recommendations, the Tunisian government reiterated the following:
The new constitution guarantees freedom of expression under Chapter 27. There are no limits to these rights unless public freedoms and national defense need to be guaranteed in line with Article 19 of the ICCPR.
The decree concerning online crime was reviewed with a view of striking a balance between freedom of expression and the dissemination of hate speech in accordance with international standards.
Freedom of expression is not punished unless in cases of defamation and hate speech.
The government has strengthened the competence of judges to defend freedom of expression.
Morocco received 17 recommendations on the issue of freedom of expression from the following countries: Spain, Switzerland, Belgium, France, Germany, Greece, Ireland, Indonesia, Italy, Latvia, Luxembourg, Norway, Peru, Romania, South Korea, USA and Venezuela
We particularly commend Greece's recommendation for highlighting the issue of digital freedom:
"Greece recommends Morocco to ensure continued efforts to repeal unlawful restrictions on internet access and telecommunication in the future, especially regarding protests."
In response to these recommendations, the Moroccan government reiterated the following:
There is a clear improvement in institutional guarantees to freedom of expression and journalists based on principles of freedom, pluralism, independence, and protection on an institutional level.
The Press Code has clear articles guaranteeing press freedoms.
Fines have been imposed rather than prison sentences.
Our local and international partners including Access Now worked tirelessly for UPR41 and it was great to see their efforts pay off in terms of the recommendations made. We hope the governments of both countries follow through with these recommendations and truthfully uphold their statements regarding digital rights including freedom of expression, media, access to information and privacy for the people of Tunisia and Morocco.
UPR42 Pre-session in Geneva: Ghana, Gabon and Benin
In November, the Uproar team along with Qemal Affagnon from Internet Without Borders and Thobekile Matimbe from Paradigm Initiative visited Geneva to participate in the pre-sessions for UPR42.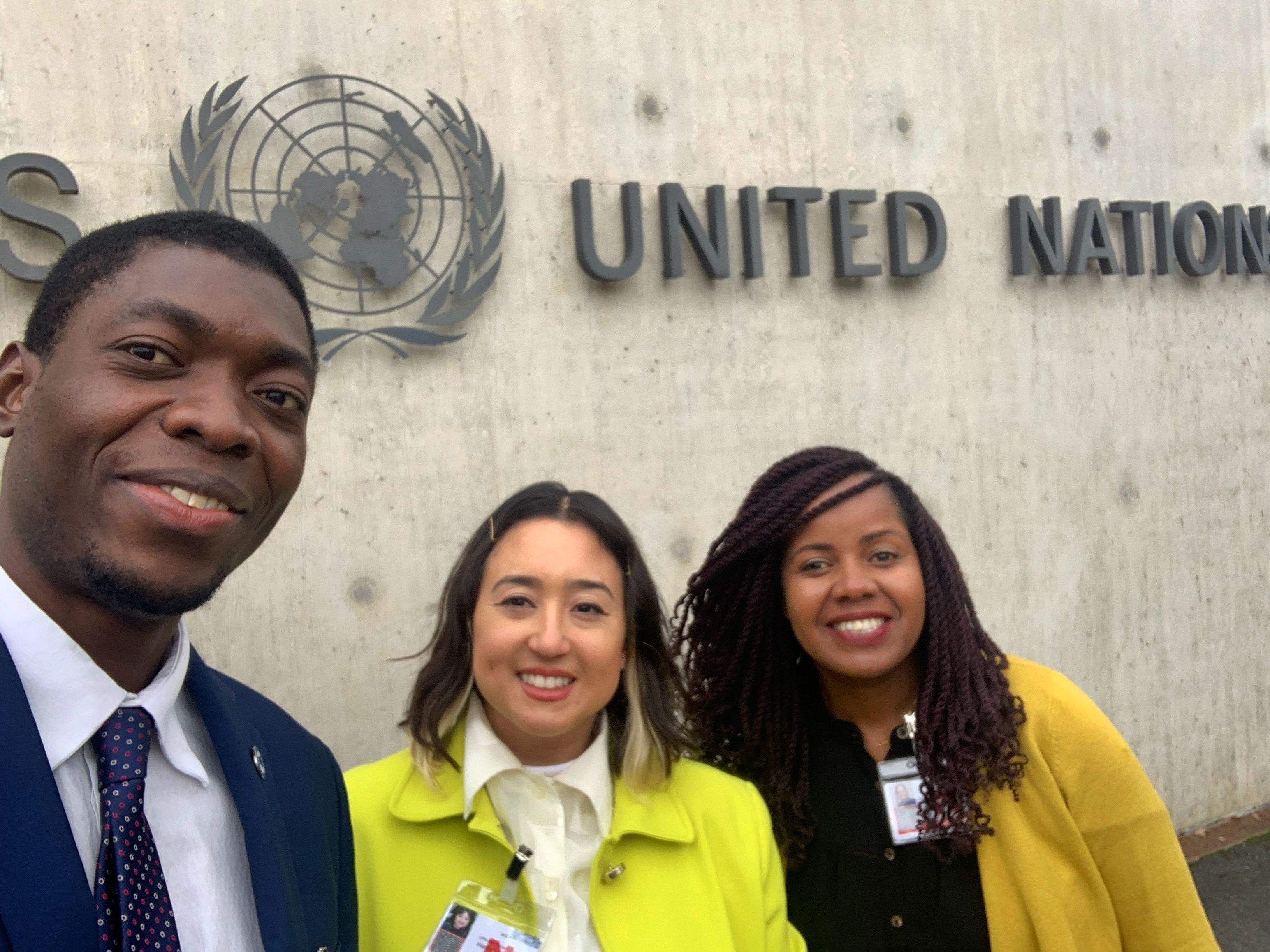 This was the first time in almost 3 years that we have been able to visit the United Nations Office at Geneva and it was great to be back in person since our last visit in 2019.
We met with UN representatives from Estonia, Belgium, Croatia, Netherlands and Canada to pressure them to make recommendations on Digital Rights in Ghana, Gabon and Benin.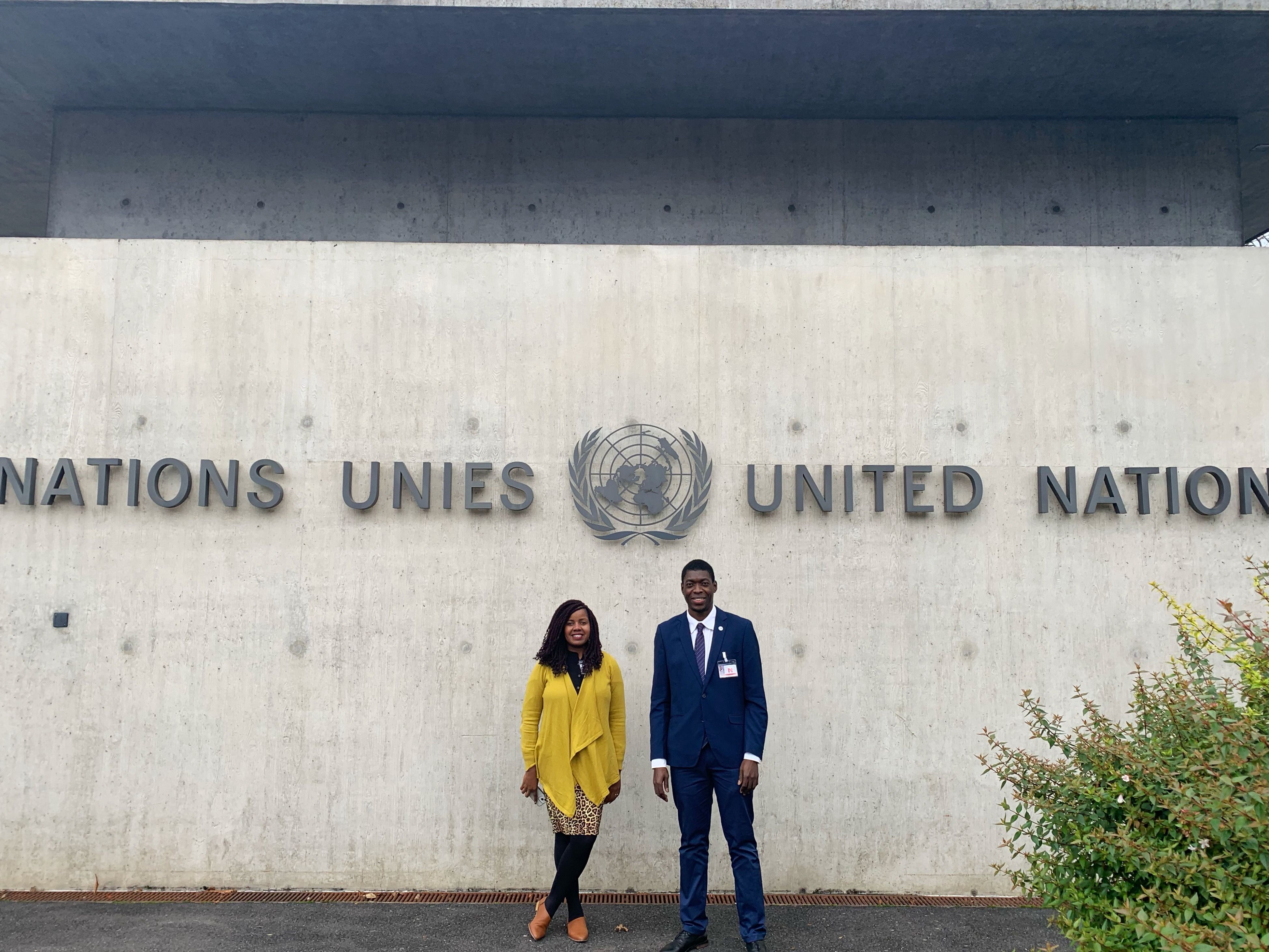 We are pleased to say that our lobbying efforts from the pre-session were a great success but you'll have to wait for our next blog post to see the outcome of UPR42!
Small Media Recognition
The National Coalition for Human Rights Defenders recognised Small Media for their partnership under the Uproar project and for solidarity towards ensuring the protection of Human Rights Defenders in Uganda.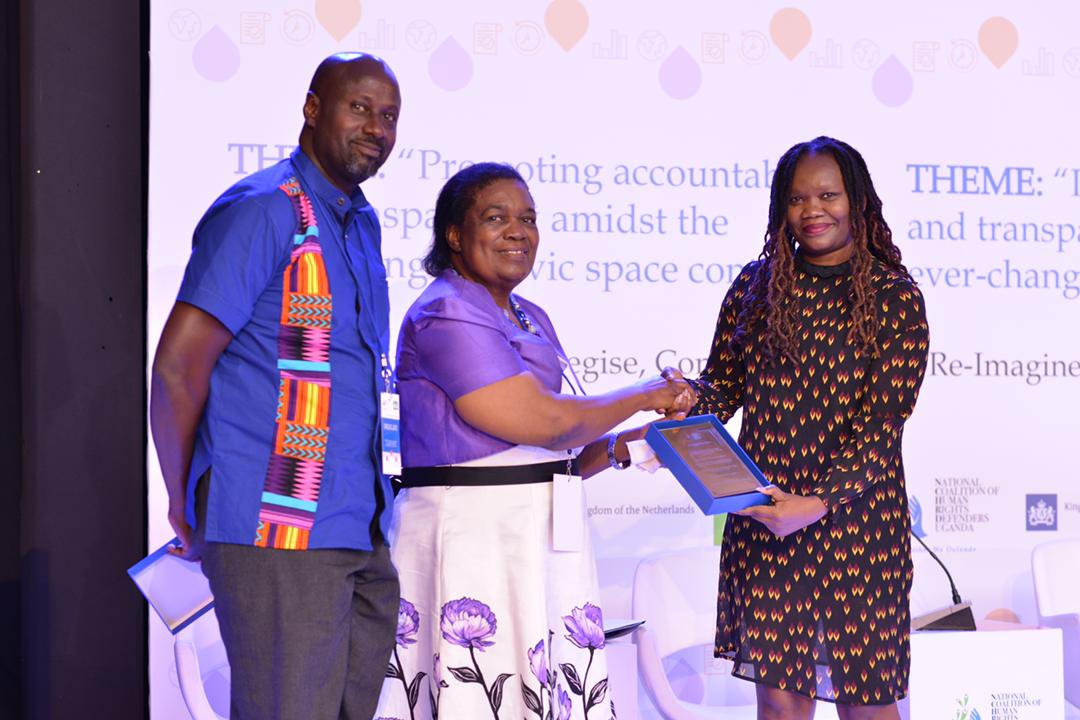 Ms. Margaret Sekagya, the former UN Special Rapporteur for Human Rights Defenders handed the plaque to Catherine Anite, Uproar's Director at the Coalition's Annual General Assembly in Uganda.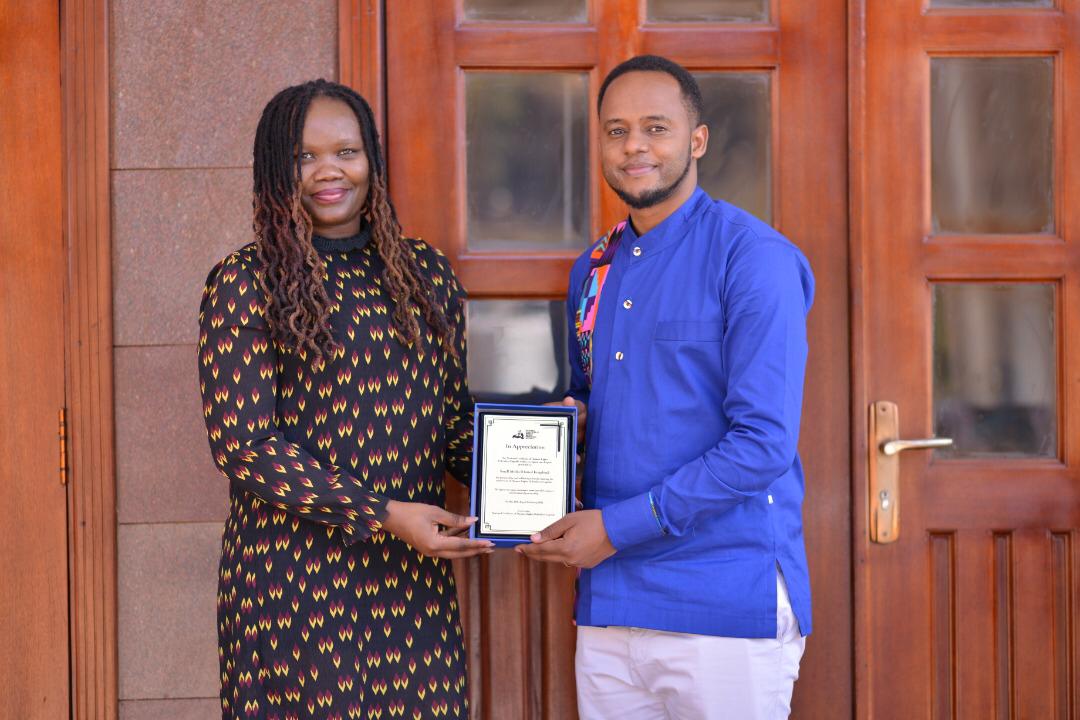 "It is an honour to receive this recognition for our support towards enhancing freedom of expression, media and other digital rights through the UPR process and we look forward to continuing our partnership with the National Coalition for Human Rights Defenders."
Catherine Anite, Project Director, Uproar
Events and Workshops in Malawi, Tunisia and Zambia
Uproar hosted multiple successful workshops on Digital Rights last year across a number of locations in Africa, including Malawi, Tunisia and Zambia.
Uproar Workshop at #FIFAfrica22: The UPR and Digital Rights
In September, Uproar hosted a 2-day workshop titled 'The UPR and Digital Rights' in partnership with Collaboration on International ICT Policy in East and Southern Africa at the Forum on Internet Freedom in Africa (FIFAfrica22). This took place in Lusaka, Zambia and was the first physical event held since 2019 so it was exciting to be back!
The Uproar team held a variety of different workshops over the course of two days:
Session 1: Overview of the UPR | Catherine Anite & Hannah Machlin
Session 2: International and Regional Frameworks on Digital Rights | Catherine Anite
Session 3: Campaign and Advocacy Planning | Hannah Machlin
Session 4: Resources, Tools, opportunities | Catherine Anite and Hannah Machlin
Session 5: Introduction to News Literacy | Prossy Kawalya & George Lugalambi
Session 6: Design & Digital Rights | Surasti Puri & Ethan Salmon
Session 7: Data Visualisation | Surasti Puri & Ethan Salmon
Session 8: Final Sprint | Surasti Puri & Ethan Salmon

We had over 30 participants representing a total of 20 countries across the globe including Benin, Burundi, Botswana, Cameroon, Democratic Republic of Congo, Ethiopia, Ghana, India, Kenya, Mozambique, Nigeria, Senegal, Sri Lanka, Sudan, Tanzania, Uganda, United Kingdom, United States of America, Zambia, and Zimbabwe. The range of backgrounds was just as diverse, from civil society and digital rights activism and advocacy to legal, journalism, and academia.
It was great to be able to dedicate a workshop on such a variety of issues around the issue of advocacy concerning the UPR and digital rights. Congratulations to our team for doing such an amazing job hosting these sessions to great success!
For another perspective on this workshop, read CIPESA's follow-up blog post:
Participant Reflection on #FIFAfrica22: Effective Engagement in the UPR Process for Digital Rights Promotion
Digital Rights in Tunisia in Light of the Universal Periodic Review: Insufficient Legislation and Rights at Risk
Ahead of Tunisia's UPR session, Small Media Foundation and Access Now organised a one-day event in Tunisia to bring together global and local civil society organizations, diplomatic and UN representatives to jointly discuss the situation of digital rights in Tunisia, and to create a space for civil society coordination on digital rights through targeted advocacy goals and coordinated outreach.
The event presented the UPR mechanism and its importance, followed by four interactive sessions, each dedicated to one of the aforementioned rights, and a final session to present the outcomes of the discussions.
Members of Parliament Engagement Workshop on Digital Rights!
Small Media in partnership with the Centre for Human Rights and Rehabilitation hosted the 'Members of Parliament Engagement Workshop on Digital Rights!' workshop at the Africa Internet Governance Forum last July in Lilongwe, Malawi.
This workshop brought together a number of policymakers and invited them to participate in sessions on the following topics:
Session 1: The Electronic Transaction and Cyber Security Act
Session 2: Digital Rights Bill – the significance and what the Digital Rights Coalition has been doing
Session 3: Data Protection and Privacy
It was a great opportunity for the Uproar team to engage with various MPs and policymakers, with insightful discussions held by the participants after each session. Following all that hard work, we also had the opportunity to relax and socialise over some refreshments which was very much appreciated!
Newsletter Launch
Last December we launched the long-awaited Uproar Newsletter so you can finally get updates on everything to do with Uproar, UPR and digital rights straight into your inbox!
This is a quarterly newsletter so we won't go spamming your emails too much. If you're interested in signing up and keeping up to date with us, follow the link below:
That about sums up all our accomplishments for the end of 2022, remember to follow us on Twitter and Facebook for regular updates on all things Uproar!
Dodo Wang is a freelance Social Media consultant working for Uproar.